CIS XM Plural Component Sprayer
Contact Sales
Advanced Technology and Accurate Ratio Control
CIS XM Plural-Component Sprayers are designed to spray the toughest plural-component materials, with the assurance that you're spraying accurately and on-ratio. Ideally suited for marine, bridge, rail and wind energy applications, each CIS XM is fully configurable.
Click on the search icons to view more details.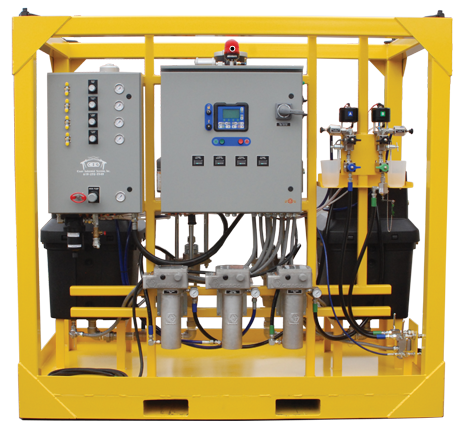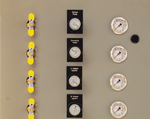 Pneumatic Control Panel
Single location for control of main air and ancillary equipment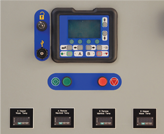 Intuitive User Controls
Real-time display of ratio, flow-rate,pressure, paint & water temperatures. USB drive for data reporting.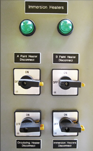 Nema 4 Control Panel
UL 783 Main Disconnect. Branch circuit protector. 11/240/480v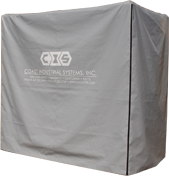 Vinyl Cover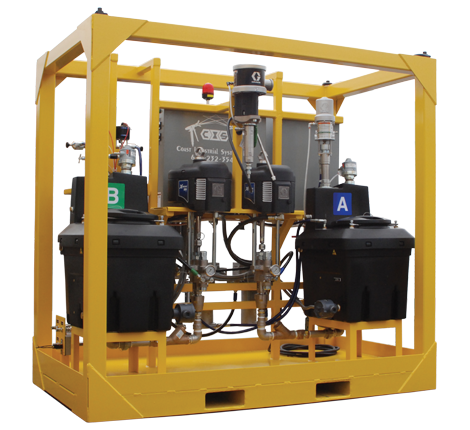 Remote Manifold
A & B temperature sensors at remote manifold.

Immersion Heaters
Heavy duty construction. 110 / 240 / 480v, 1500watt.

Sovent Flush Pump
Merkur 45:1

Xtreme Pump Lowers
Fluid filtration & Easy serviceability access.

Recirulation Pump
Monark 5:1

Twistork Agitator
Helps maintain proper material consistency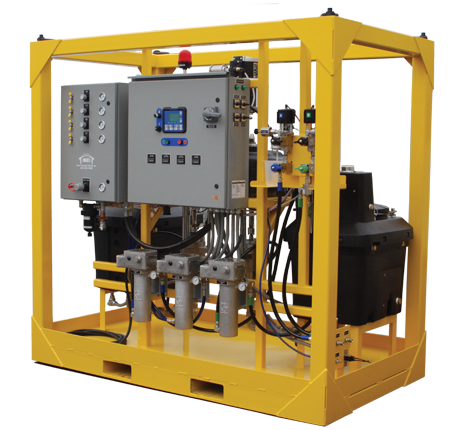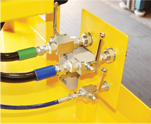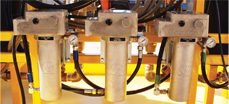 Viscon Fluid Heaters
A & B material heaters. Recirculation heater. 110 / 240 / 480v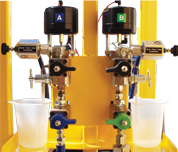 Dosing Valves
Provides precision mixing and accurate ratio control. User friendly recirculation controls.

Single Point of Connection
A & B material lines. Solvent flush line. A & B Remote manifold temperature.

Swivel Lifting Eyes
5000# each
Available in the following colors:
Specifications
Dimensions
84.5H x 90.5W x 50.50 in (214.6 x 229.9 x 128.3 em)
Mix ratio range
1:1 to 10:1 (in 0.1 increments)
Ratio tolerance range
+I- 5%
Fluid filtration
60 mesh (238 micron standard)
Flow rates
Minimum
1 qUmin (0.95 lpm)*
Maximum
3 gpm (11.41pm)*
*Actual flow rates vary by material type
Spill Containment
80US Gallons
Air inlet
3/4 npt (f)
Fluid inlets
1-1/4 npt (m)
Max mixed fluid working pressure
50:1
5200 psi (358 bar, 35.8 MPa)
70:1
6300 psi (434 bar, 43.4 MPa)
Air supply pressure range
50-150 psi (3.5 to 10.3 bar, 0.35 to 1.0 MPa)
Max pump air set pressure
50:1
100 psi (7.0 bar, 0.7 MPa)
70:1
90 psi (6.2 bar, 0.62 MPa)
Max pump inlet fluid pressure
250 psi (17 bar, 1. 7 MPa)
Max air consumption at 100 psi (0.7 MPa, 7.0 bar)
75 scfm/gpm (0.56 m3/min/lpm)
Ambient temperature range
Operating
32° to 130°F (0° to 54°C)
Storage
30° to 160°F (-1° to 71°C)
Weight
2850 lb (1293 kg)
Sound pressure
86 dBAat 100 psi (7.0 bar, 0.7 MPa)
Fluid viscosity range
200-20,000 cps(heavier viscosities can be sprayed using heat, recirculation and/or pressure feeding)
Wetted parts
Suction tubes
Aluminum
Flush pump
Stainless steel, aluminum, carbide, UHMWPE and PTFE
Hoses
Nylon
Pumps (A and 8)
Carbon steel, alloy steel, 303, 440, 17 -ph grades stainless steel, zinc and nickel plating, ductile iron, tungsten carbide, and PTFE
Metering valves
Carbon steel, nickel plating, carbide, polyethylene, leather
Manifold
Carbon steel, nickel plating, carbide, 302 stainless steel,PTFE, UHMWPE
Mixer
Stainless steel housing with acetal elements
Spray gun
Stainless steel, acetal, polyethylene, nylon, polypropylene, carbide, polyurethane, solvent-resistant o-rings