COAST INDUSTRIAL SYSTEMS, INC.
XP Plural-Component Sprayers
A smart alternative to hand mixing.
The Graco XP Plural-Component Sprayers are designed to pump, mix and atomize high-viscosity, high-solids coatings with superior results. When you upgrade from hand mixing, you'll find that the XP provides excellent return on investment, by reducing material waste and by using less clean-up solvent.
Features & Benefits:
Reduced material waste - no more throwing away unused mixed material at the end of the day
Save money by using less clean-up solvent
Consistent material quality - no more guesswork or human error in measuring materials
Easy to operate - minimal training required
Reduced maintenance costs
Materials:
Environmentally-friendly high solids coatings, with little or no solvent
Hybrid polyurethanes
Epoxies
Very high solids coatings – up to 100% solids content
Materials requiring heat (requires optional heaters)
Fast-curing materials
Applications:
Towers for wind turbines
Fleet maintenance and shipbuilding
Marine applications
Railcar manufacturing and repair
Structural steel
Pipe and tank coating
Bridges
Water towers
Wastewater treatment
Manhole and sewer reconditioning
Secondary containment
RELATED LINKS
Graco XP70™ Plural-Component Sprayers
High-pressure for high-solids coatings (7250 psi)
The Graco XP70 is designed to pump, mix and atomize high-viscosity materials with superior results. In addition, the XP70's design allows you to gravity feed, which may eliminate the need for feed pumps, saving you money.
Typical Materials
Environmentally-friendly high solids coatings, with little or no solvent
High viscosity epoxy coatings – up to 100% solids content
Epoxies
Urethanes
Graco XP50™ Plural-Component Sprayers
For jobs requiring more volume (4500 to 5000 psi)
Engineered for more flow capacity, the XP50 is great for applications where you want to spray with multiple guns or larger tip sizes. The XP50 provides more production, so you can get the job done faster.
Typical Materials
Medium to high solids coatings
Hybrid urethane quick-set materials
Epoxy primers and topcoats
Properly conditioned high solids coatings
XP50 – Quick Set Packages
Optimized for quick-setting hybrid and elastomeric urethane coatings
Includes a modified mix manifold (typically remote mounted) with fluid pressure gauges and solvent valves for both A and B materials, plus a shorter 10 ft (3.0 m) static mix line to the spray gun. Heated hose is optional.
Ideal replacement for Graco King Hydra-Cat™ quick-set packages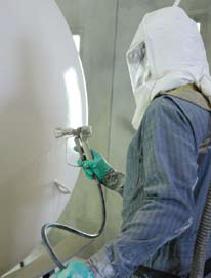 Graco XP35™ Plural-Component Sprayers
For low pressure airless applications (3500 psi)
Optimized for lower-pressure airless spray applications, the Graco XP35 has similar flow capability as the XP70, but a smaller NXT 3400 air motor. The XP35 is an ideal replacement for Graco Bulldog Hydra-Cat™ systems
Medium viscosity epoxies
Slower-setting urethane topcoats
Ideal for mix-at-gun* materials
Ideal for airless plural-component guns using static mixers, such as Fusion® Solvent Purge spray gun
For basic dispense applications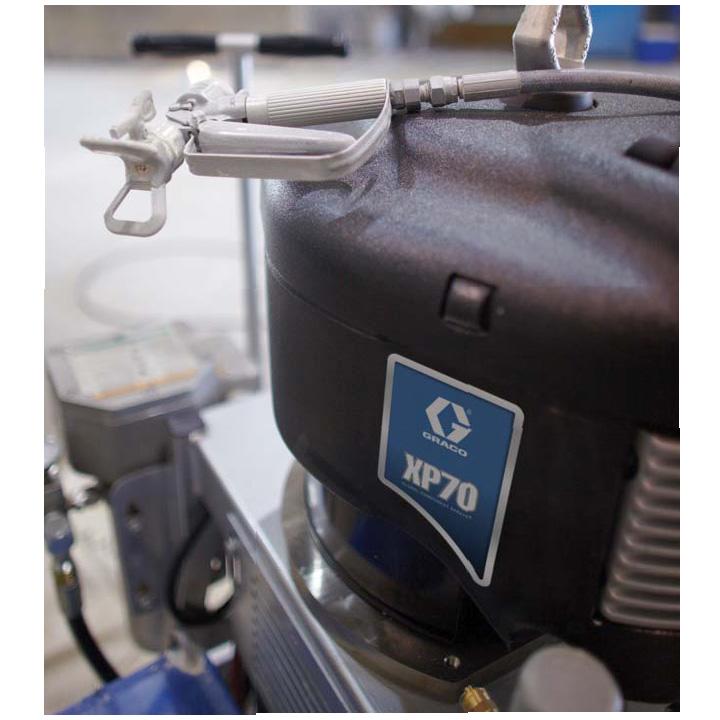 Graco XP-h™ Hydraulic Plural-Component Sprayers
For hydraulic power, performance and cost-saving efficiencies
Hydraulic systems are the choice of spraying professionals who want to reap the benefits of the latest spraying technologies and add productivity to boost their bottom line. Built with patented XP ratio technology, the Graco XP-h is ideal for truck, palletized, trailer or flatbed systems that have on-board hydraulic power*. The system's hydraulic motor has been optimized and rated to match the pressure capabilities of the NXT 6500 air motor used on Graco XP50 and XP70 sprayers.
Available in three pressure ranges: 3500, 5000 and 7250 psi (241, 345 and 500 bar)
Standard mix ratios for protective coating materials available: 1:1, 2:1, 2.5:1, 3:1, 4:1
Available as a stand or wall-mount system
Fits onto the standard XP portable cart
*Hydraulic power supply provided separately by customer
Typical Materials
Protective coatings
Epoxies
Urethane materials
OEM traffic marking applications
XP Options for Added Productivity
XP Pressure Monitor Kit:
With an optional XP Pressure Monitor Kit, you have the assurance that your Graco XP70 is spraying on-ratio. It monitors the spray pressures on the "A" and "B" sides, and shuts down the sprayer if conditions occur such as running out of material, pump cavitations, packing failures, leaks in valves or fittings, or plugged filters.
Better overall productivity - projects done on time
Reduced labor and rework costs
Confidence in end results and quality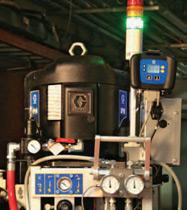 XP Heated Hoppers
For temperature conditioning high viscosity materials
Warming up certain materials can make spraying easier and improve productions capacity as well. Graco XP Heated Hoppers are designed to pre-condition high viscosity materials and 100% solid coatings.
20-gal (76 liter) double-walled tank
Set up for gravity or pressure feed – stand mounted
Accepts both agitator and feed pump
Jacketed for heated water/glycol or oil
Made of rugged double-wall polyethylene
Tank heat using immersion heaters or Viscon® HP heated circulation
Graco Gun Splitter
Quick-flush feature saves time and material
The Graco Gun Splitter lets you use two spray guns with one XP Plural-Component Sprayer. In addition, you can independently clean and flush one gun, while the other gun remains in use. If you're using a higher production XP machine such as the XP50 or XP70, the Gun Splitter helps you become even more productive.
Merkur ™ Solvent Flush Pump
Quickly flushes mixed materials from hose and gun
Provides enough pressure to push good paint out the mix hose with a spray pattern, resulting in less wasted material
Mounts easily to slotted holes provided on XP cart
Prime valve can be used to supply flush solvent for tip cleaning, or to flush a second hose and gun that have been removed from the tee in the mix line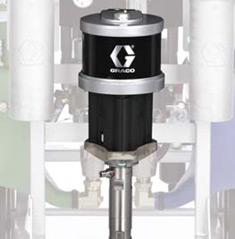 Viscon
®
Fluid Heaters
Reduces coating viscosity so it can be sprayed at lower pressure
Provides consistent spray temperature, resulting in
Consistent spray pattern and better thickness control
Mounts easily to slotted holes on XP cart
Available in standard or hazardous atmosphere design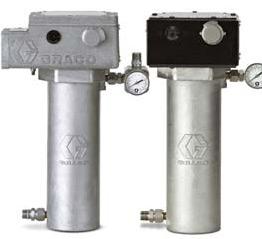 Xtreme Pump Lowers
Change one or both lowers for desired mix ratio
XP uses specific Xtreme pump lowers with spring-loaded inlet valves, Tuff stack packings, 30 mesh filters, and no prime valvesOver pressure rupture protection included on 36 cc, 48 cc and 58 cc sizes
Over pressure rupture protection included on 36 cc, 48 cc and 58 cc sizes
Six sizes available to provide fixed mix ratios: 1:1, 1.5:1, 2:1, 2.5:1, 3:1, and 4:1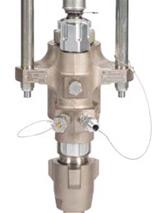 Remote Mount Mix Manifold
Mix manifold on cart is removable and can be located closer to the spray gun to reduce mixed coatings and the volume of flush solvent required - results in less wasted materials
A and B hoses from the XP cart to the mix manifold don't need to be flushed and can be sized for less pressure loss over long runs
Great for materials with very short pot life