COAST INDUSTRIAL SYSTEMS, INC.
Excel 2000® Powder Coating System
Each major component of the Nordson Excel 2000® powder coating booth, including the filters, collector/color module, canopy and fan section, have been designed to facilitate uniform, constant air flow. The result is a total air management system that brings powder coating to a new standard of performance.
Related Links
This integrated system approach delivers more efficient powder recovery, enhanced collector efficiency and superior part coverage. Several versions are available to accommodate a variety of production requirements.
Unique cartridge pleat design increases effective surface area and reduces powder waste by 80 percent
Inflatable pneumatic seal provides air-tight connection between collector module and fan section
Aerodynamic canopy design minimizes dead zones and reduce turbulence for more consistent air flow
Unitized construction of integrated booth base, collector and fan section provides a better seal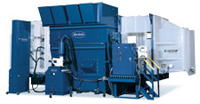 Excel 3000™ Powder Coating System
With plug-and-spray technology and low profile base, the Excel 3000™ booth system provides large system features and benefits in a compact package that is easy to install, operate and color change.
Related Links
The innovative design of the Excel 3000 powder coating booth provides efficiency and ease of use in one great system. The booth is available in 8,000 CFM, 10,800 CFM, and 15,000 CFM versions and in various flexible system configurations as well as with optional PolyPlus™ canopy material. System benefits include:
A compact, modular and durable design, with a shorter booth base for flexible location of both automatic and manual gun stations.
Booth canopy is powder resistant and makes color change easy.
The optional PolyPlus wall panels provide enhanced light within the spray booth and low attraction of powder to the booth wall surface, allowing for fast, easy, and quick color change.
The express powder spray booth features plug-and-spray technology that allows for fast and easy installation of all electrical components.
The compact and flexible color module design allows for a space saving footprint and easy to configure powder delivery options.
Flexible and easy to operate modular configurations.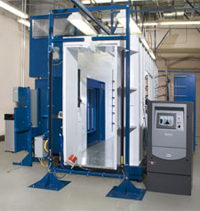 Horizon® Series Powder Coating System
Horizon® powder coating booths are designed to provide efficient, flexible and clean coating operation in automatic and manual powder coating applications.
Related Links
Using a unique "down-draft" design and Nordson pioneered cartridge-filter technology, Horizon booths provide high material utilization and fast color-change capability in a space-efficient, economical system.
Proven cartridge-filter technology provides improved operating efficiency and long life
"Pre-shipment" assembly facilitates installation
Strong, high-performance polypropylene canopy reduces powder attraction for easy cleaning and better efficiency
Removable filter/collector module speeds color change
Zero make-up air requirements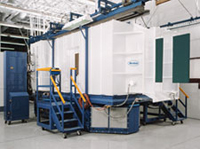 Vantage® RCM Powder Coating Booth
Vantage® RCM (removable collector module) powder spray booth is an economical solution for basic powder coating operations requiring reclaim capability in continuous production situations.
Related Links
For job shops, first-time powder coaters and to suppliment large in-house powder coating operations, Vantage RCM powder spray booths offer a variety of configuration options. Booths are available in a standard 5 ft. width and your choice of 9 ft., 12 ft. or 15 ft. lengths. Manual and automatic spray stations are also available. Other features include:
Color-change capability with fluidized powder reclaim in continuous production
Delivered pre-tested and nearly fully assembled
Requires only quick, easy hookup of filter collector module, final filter module, and electrical and pneumatics to start production
Booth and filter/collector module simply roll off truck and into position
Durable, long-life powder-coated steel structure with high-quality galvanized canopy and floor
Low-profile booth base eliminates operator platforms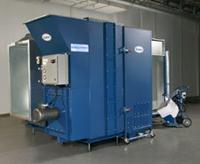 Vantage® FCM Powder Coating Booth
Vantage® FCM (fixed collector module) powder spray booths provide proven performance in a cost-effective design.
Related Links
Ideal for job shops, start-up operations and economically expanding existing production., Vantage FCM booths are available in configurations from 6000 to 12000 CFM capacity to accommodate various product sizes. Booth features include:
Economical fixed-collector-module solution for manual powder coating operations.
Range of single module configurations from 5,300 to 11,000 CFM capacity for both conveyorized and non-conveyored operations
Ideal powder coating booth for wide range of part sizes, from small parts in compact booth to large components for agricultural implements in huge walk-in booths
Exceptionally quiet in operation.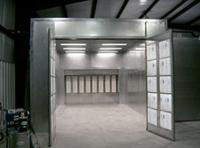 Econo-Coat® Powder Coating Booths
Compact powder spray booths and recovery systems that are perfect for batch powder coating small- to medium-sized parts.
Related Links
The Nordson Econo-Coat powder spray booth systems are ideal for coating wheels and other automotive parts, test panels for new color evaluation and a variety of other parts. Using proven cartridge-filter technology, Econo-Coat systems do does not require expensive ductwork and explosion venting. Air used to contain and recover powder overspray passes through primary cartridge filters and final filters, and is then exhausted as clean air. What's more, it ensures safe, simple operation with a control panel that includes a main power switch, booth exhaust start and stop switches, cartridge-filter blow-down timer and filter pressure safety interlock switch.
EconoCoat 1001 features include:
Ultra compact 3.75' H x 2.5' W x 2.5' D work envelope
Operates on 110-volt electrical supply for fast, easy installation
Reverse-pulse filter cartridge cleaning for peak performance and long service life
Final filter returns clean air to the workplace
Simple controls for ease of use
EconoCoat 2001 features include:
5' high by 5' wide by 5' deep work envelope
High-performance polypropylene canopy with clear roof
Reverse-pulse filter cartridge cleaning for peak performance and long service life
Final filters return clean air to the workplace
460VAC, 3-phase, 60Hz standard, with other voltages optional
UL508 control panel for safety and ease of use