COAST INDUSTRIAL SYSTEMS, INC.
Versa-Spray II Series
Versa-Spray® II Automatic Powder Coating Gun
Used with either Nordson® iControl® or Vantage® gun control systems, the Nordson Versa-Spray® II automatic powder spray gun features innovative Automatic Feedback Current control to deliver superior transfer efficiency and finish quality. It gives coaters the ultimate flexibility to precisely control powder flow, air flow, and electrostatic parameters in automatic coating applications.
Related Links
With the system, finishers can achieve the outstanding coating coverage, pattern uniformity and transfer efficiency needed to effectively coat parts with very complex geometries and deep recesses.
Superior Faraday-cage penetration accommodates wide range of coating requirements
Integral-power-supply is designed to deliver optimal kV for automatic applications
Dual-mode operation of gun current and voltage control provides greater flexibility
Specially engineered materials used in powder-contact parts minimize wear and impact fusion
An optional ion collector device greatly enhances Faraday-cage penetration and coating uniformity.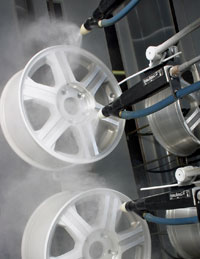 Versa-Spray® IPS-PE Powder Coating Guns with Controls
High-performance, integral-power-supply Versa-Spray® IPS-PE and Versa-Spray II IPS-PE automatic powder coating guns and controls provide higher output voltage under actual spraying conditions at typical gun-to-part distances.
Related Links
Used consistently in the manufacturing operations of appliances using frit (porcelain enamel coatings), the Versa-Spray IPS-PE and Versa-Spray II IPS-PE spray guns are the smart choice for improved powder coating performance and longer life.
Ensuring higher first-pass transfer efficiency and improved coverage, Versa-Spray gun bodies are constructed of lightweight, durable, non-conductive engineered plastics for maximum electrostatic attraction to the part to be coated, and for maximum ruggedness with minimum weight. Features include:
Exceptionally flexible cable provides low-voltage power to the gun's integral voltage multiplier
Completely field repairable with modular replacement components, if needed
Use of specially engineered materials for powder contact parts provides maximum resistance to wear and impact fusion with porcelain coating materials
Powder pathway module and internal wear parts are interchangeable between manual and automatic gun for flexibility
In addition, the Versa-Spray IPS-PE II can be coupled with Nordson's iControl® automatic gun control system for superior system peformance. Featuring digital, closed-loop flow control and large, color touch-screen user interface, the iControl brings another level of performance and control to porcelain enamel coating applications, bringing unsurpassed finish quality and up to 30 percent material savings.