COAST INDUSTRIAL SYSTEMS, INC.
Tribomatic® 500 Manual Powder
Coating Gun System
The streamlined, lightweight Nordson Tribomatic® 500 manual powder coating gun provides improved spray-pattern control to deliver exceptionally smooth finishes and superior penetration into part recesses.
Related Links
Based on Nordson's wave charging technology, the gun has been designed to deliver high charging efficiency in a compact size. It is designed for use with current Tribomatic II gun controls for cost-effective conversion from Tribomatic II powder coating systems.
The Tribomatic 500 spray gun includes an adjustable conical nozzle for fast, easy spray-pattern control, from a large, soft pattern to a narrow penetration pattern.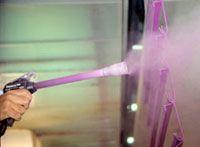 Tribomatic® Wand for Powder Coating Operations
The Tribomatic® wand delivers the benefits of powder coating technology to manufacturers of pipes, poles, cylinders and other products where internal surfaces of tubular, elongated parts needs to be effectively powder coated.
Related Links
In operation, the Tribomatic powder coating wand is placed through the part to be coated, then triggered on as the gun is retracted from the part. A centering device is available to keep the gun centered in the part.
The innovative gun design and variety of spray nozzles accommodates tubular products with internal diameters from one inch to 3.5 feet. For operator convenience, the wand is equipped with a hand-held remote trigger