COAST INDUSTRIAL SYSTEMS, INC.
iControl® Integrated Control System
Integrated automatic gun control system with closed-loop digital flow for consistent, repeatable coating performance. All gun parameters as well as in/out positioners and reciprocators are user programmable and controlled/monitored from an easy to use, central 12" color touch screen operator interface.
Related Links
The iControl® integrated control system gives powder coaters enhanced capabilities for optimal powder coating system performance and maximum line efficiency. The technology can be customized to provide digital control of all application parameters through a single, user-friendly operator interface.
The iControl system features close-loop digital flow modules for consistent coating quality, 128MB compact flash for operating system and program storage/expandability, a single board computer, and a 12" LCD full-color touch screen graphic interface display with icon-based graphics in a single dust tight enclosure.
Alternate dial for adjustment of gun parameter graphic slide controls
Gun parameter settings utilize patented Select Charge® technology and Automatic Feedback Current (AFC) control
Compatible with all Nordson IPS corona and tribo automatic powder coating guns
Expandable and upgradeable in the future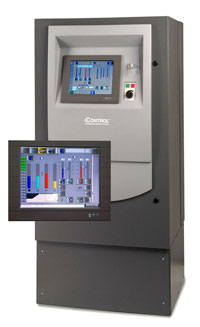 Vantage® Modular Powder Coating Gun Control System
The Vantage® modular gun control system provides exceptional efficiency, flexibility and finish quality in automatic powder coating operations. A simple operator interface combined with cutting edge design provides easy adjustment and monitoring of gun operation.
Related Links
Automatic Feedback Current (AFC) control automatically optimizes electrostatic parameters for maximum efficiency, coating coverage and finish quality for a broad range of part shapes.
Sleek front panel design features push-type key switches and bright LEDs for ease of use and long service life. AFC and kV settings are user-adjustable for complete flexibility in customizing spray gun parameters to meet the most demanding coating requirements. The user can also choose to monitor actual kV or micro-amps during operation.
Simple, easy-to-use operator interface
Automatic Feedback Current (AFC) control automatically adjusts kV to maintain selected current limit for optimum coating coverage
Touch key switch for manually triggering gun to check spray pattern and adjust powder flow and atomizing settings
Modular design for easy upgrading from a 4- or 6-gun system to 8-gun system
Flexible design also accommodates a stand-alone, dual-gun controller
Compatible with Versa-Spray® II, Sure Coat® and Tribomatic® II automatic powder coating guns