COAST INDUSTRIAL SYSTEMS, INC.
Sure Coat® Automatic Powder Coating Gun
Used with the Nordson® iControl® gun control system, the Sure Coat® automatic powder spray gun with Select Charge® technology delivers superior coating coverage and efficiency across all types of applications, including recoats, from the simplest to the most complex part geometries.
Related Links
The Sure Coat automatic gun incorporates an air-purge cleanable design for fast, easy cleaning, both inside and out, without gun disassembly, a requirement today for quick color-change powder coating applications.
Automatic Feedback Current control ensures consistent, optimum transfer efficiency
Superior Faraday-cage penetration accommodates wide range of coating requirements
Integral-power-supply is designed to deliver optimal kV for automatic applications
Specially engineered materials used in powder-contact parts minimize wear and impact fusion
Easy access powder pathway design makes routine cleaning and maintenance fast and uncomplicated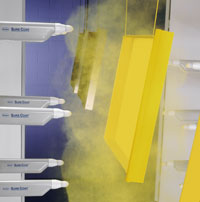 Sure Coat® Powder Coating Nozzle Kit
The Sure Coat nozzle kit includes eight (8) of the most commonly used nozzles across a wide range of powder coating applications and part geometries.
Never more true than in powder coating, to choose the right "nozzle" for your manual spray gun.
The new Sure Coat® nozzle kit is an assortment of the most commonly used nozzles across a wide range of coating applications and part geometries. It is specially priced for you to easily and cost-effectively determine which nozzles are best for optimizing your powder coating operation.
The right nozzle can match the powder spray pattern to the product you are coating.This helps achieve optimum finish quality, consistency and overall operating efficiency. Not to mention making the operator's job easier, by letting the nozzle help do the work.
The right "nozzle" for the job helps achieve desired coverage faster and easier. And doesn't waste powder or the operator's effort.
Aerodynamics, in other words the air movement in the powder pattern, as well as from the powder recovery booth draw, can work for you, or against you. So why not let it work for you?
The nozzle creates the shape and velocity of the powder pattern.
Box-shaped Parts
For complete, even coverage at the inside corner and adjacent areas of a box-shaped part, you may want a smaller, very soft, cone-shaped pattern to minimize bounce-back. Whereas a larger spray pattern with too high a velocity makes it very difficult to get complete coverage. The excess air has nowhere to go but back out of the corner, either carrying powder with it or blowing it off the surface. And you can end up with far too much powder deposited in adjacent areas.
Larger, flat surfaces
On products with larger, flat surfaces, you want a larger, slightly higher-velocity, flat fan pattern for faster and more uniform coverage.
Extrusions and other products with complex geometries
Products such as extrusions and others with complex geometries typically require a smaller, more focused, higher-velocity spray pattern, to "drive" the powder into those difficult-to-reach areas.
Wire goods, wheels or louvered panels
With products such as wire goods, wheels or louvered panels, you actually want some pattern velocity to drive through openings, or around surfaces, to get complete coverage. This can also let "electrostatic wrap" help provide coverage on the backside of the product, making coating the backside much quicker and easier.