COAST INDUSTRIAL SYSTEMS, INC.
Feed Centers
Nordson offers various feed centers to accommodate the delivery of powder in automatic and manual gun systems.
Prodigy® Powder Port
Revolutionary technology in powder circulation.
The Prodigy HDLV® (high-density powder, low-velocity air) spray system is an integrated solution for precision powder coating. The combination of the Prodigy spray gun and controller and the Prodigy HDLV pump provides for higher transfer efficiency, higher powder output, and ultra-fast color change.
As part of that system, the Prodigy Powder Port® is designed for use with HDLV technology, providing a revolutionary approach to powder circulation. It provides a separate prep area for service of next/last color with controls that are easy to operate. In addition, the Prodigy Powder Port incorporates a unique pick-up tube design for quick purge and easy cleaning.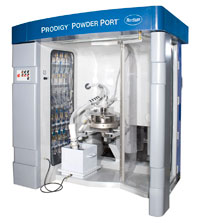 Vantage® Feed Center
FAST color change in a simple and easy to operate feed center.
Related Links
Nordson's Vantage Feed Center provides all of the features and benefits – and more – previously available only in fast color change system feed centers
Large and open design for fast and effortless color change
Available for use on both color module and cyclone based systems
Accommodates stainless steel round hopper (50 lb.), plastic rectangular hopper, and powder box (* see note)
Simple and readily accessible controls for ease of use
High pressure purge for contamination free color change
Allows for both reclaim and virgin powder supplies
*Powder box delivery requires both the vibratory table and local fluidizing options
Additional features for reliable and repeatable performance – during application and color change
Additional features include:
Up to 27 pump capacity
One piece lance with nine In-Line pump stations
Free standing over-center air cylinder for smooth travel of up/down pump lance positioning
Integrated pick-up tube mounts for Prodigy with HDLV manual gun systems
Simple and durable pump locking device for reliable seal and repeatable positioning of the delivery pumps
Air cylinder clamping mechanism to lock and seal lance assembly during color change purge cycle
Tapered guides for precise pump lance positioning during color change purge cycle
Level sensor for consistent powder feed level in the hopper
Easily cleanable 15" vibratory sieve for fast color change and a contamination free finish
Integrated light fixture