COAST INDUSTRIAL SYSTEMS, INC.
Plural Component Spray Guns
No matter what you're spraying – residential foam insulation, roofing projects, waterproofing, shipbuilding applications, railcar manufacturing, structural steel coatings, tank and pipe coatings – Graco's got you covered with a complete line of plural-component spray guns and airless guns.
RELATED LINKS
Graco Fusion Series
Fusion CS
Plural-Component Spray Gun with ClearShot™ Technology
Break-through technology and engineering
ClearShot Technology sets the Fusion CS gun apart from every other applicator. With its revolutionary technology, the Fusion CS is poised to virtually eliminate drilling of the mix chamber - increasing your spraying uptime and reducing downtime spent on maintenance. Flexible for polyurea and foam applications, this gun provides you with versatile advantages.
RELATED LINKS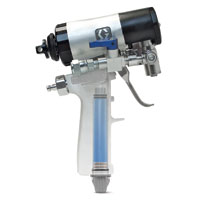 Fusion Air Purge
Easy to use, easy to maintain
The Fusion AP Gun handles everything from polyurethane foam to polyurea coatings. With long-life mix chamber and durable side seals, Fusion guns are designed to reduce your maintenance and downtime, and provide a better mix.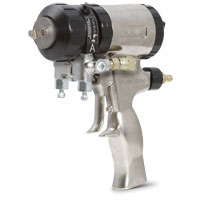 Fusion Mechanical Purge
Designed for superior mixing
Whether you're spraying polyurea coatings or spray foam insulation, the Fusion MP Gun handles it all. Its rugged design provides excellent mix and material properties – giving you great results at the jobsite.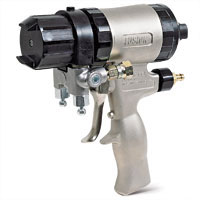 Probler P2
Air-Purge Gun
Designed for polyurea coatings and polyurethane foam
The Probler P2 Gun is lightweight and easy to maneuver – even in difficult spraying positions. Its double piston design provides more than 300 pounds (136 kg) of triggering force – much more than a smaller piston diameter. The Probler P2 reduces maintenance, increases spraying uptime and is easy to use.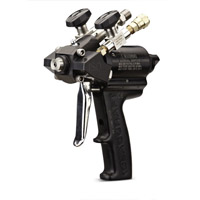 GAP Pro
Air-Purge Gun
Designed for polyurea coatings and polyurethane foam
Easy-to-use, durable design keeps you spraying with no adjustments necessary. The GAP Pro is designed for construction, bedlining, roofing and other plural-component spraying.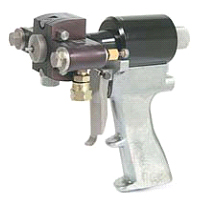 GX-7
Mechanical Purge
Designed for Foam Only
GX-7 is a mechanical-purge spray gun known for dependable performance and reliability. It has great mixing and pattern control with its unique internal impingement mixing design. Designed to handle the toughest job-site conditions, the GX-7 is excellent for polyurethane foams.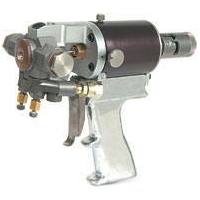 GX7-400 and GX7-DI
Mechanical Purge
For low- to medium-volume polyurea applications
The GX7-400 Gun is the same as a standard GX-7, but features a shorter stroke length. This is important for fast-setting polyureas because the material spends less time in the gun.
The GX7-DI Gun features direct impingement mixing, which provides a superior surface finish for polyurea applications. Its spray tip and gun block feature a non-stick coating for easy maintenance.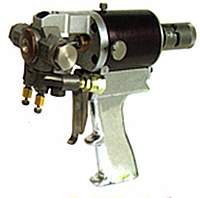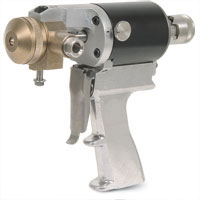 GX-8
Mechanical Purge
Low-output gun for protective coatings
The GX-8 Gun is designed for very low output, fast-set polyurea, polyurethane and hybrid coatings. It is designed to save on material consumption by significantly reducing overspray associated with low-output spraying.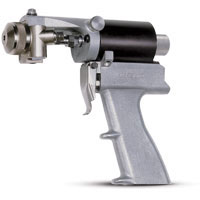 D-Gun
Mechanical Purge
Lightweight and compact for the ultimate spray control
The Graco D-Gun is ideal for small to midrange output foam applications such as interior stud-wall spraying.